The Mountains to Sea Trail is the most diverse path I have ever experienced. It travels past the spruce and fir trees of 6,000 foot ridgelines in the Smoky Mountains to the cotton fields of Eastern North Carolina. Along the way, I have observed the changing topography, flora, and fauna but most of all I have been struck by the distinct communities off trail and the variety of user groups on the trail.
We started this journey as a family at the Cherokee Qualla Boundary where our daughter learned about Native American culture and struggled to understand The Trail of Tears. She even talked Brew into buying me a handmade pair of beaded earrings. (Good job, Charley!)
A few weeks later we listened to live bluegrass music on the banks of the Yadkin River in Rockford in what is known as North Carolina's wine region. We never tested the wine, but we did sample three different types of pie. Mmmm.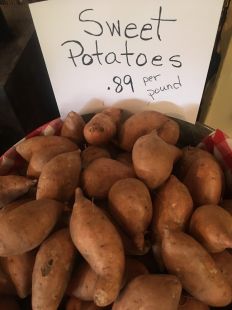 In Durham, Brew and I went on a short-lived double date to check out the bustling nightlife of the Triangle. I had just ordered my drink when the babysitter called. Unfortunately, our baby has his own version of "nightlife."
This past week, I walked past a Civil War battlefield in Bentonville and then a few miles, and a few cotton and tobacco fields later, I got to hop up into a tractor and help a local farmer "turn up" his sweet potatoes.
The counties that I have passed through have all looked and felt very different, but the aspect of the Mountains-to-Sea Trail that stands out in comparison to my other long distance adventures is the wide range of people I have passed on the trail.
On some sections it's a multi-use trail and I have passed horseback riders, cyclists, runners, children on scooters and in strollers. One time I even passed two remote controlled monster trucks racing down the path. But more than the different modes of travel, it's been the difference in color and culture that has made me appreciate the uniqueness of this trail.
When I left the park headquarters at Pilot Mountain State Park, I passed more African-American hikers than white hikers on the trail. On multiple occasions, I have interrupted a conversation in Spanish between Latinos out for a hike. I used to think the biggest hurdle for engaging different ethnicities with the trail were cultural boundaries, but that's changed. Now, I'm convinced that it primarily comes down to access. When the trail goes through diverse communities there are diverse communities on the trail.
Yesterday, I entered Jones Lake State Park in Bladen County. I was excited to get my road weary legs on a sandy trail and explore a new state park. It was only when I entered the visitor center that I learned Jones Lake had been founded in the 1930s as a recreation area for African-Americans. It stayed that way until the 1960s. I never knew that state parks had been segregated.
My family and I have been on the road and on the trail for more than two months now and we are two-thirds of the way through this journey. It's been wonderful to see different colors, experience multiple cultures, and hear a variety of languages on the trail. I can appreciate that we've come a long way and then I look up and realize we still have a long way to go.